AUX
Looks, touches, rhythms. "Aux" is a contemporary circus piece that is guided and accompanied by exquisite live music. Five acrobats and a musician explore the highs and lows of togetherness. Initially the artists move according to the rhythm set by the music, but soon they question the imposed mood. A red AUX cable interweaves through the entire piece, at times creating chaos and entanglement and other times unifying the group. The piece is full of surprises, flowing through different worlds to themes of vulnerability, trust, light-heartedness, and playful silliness.
The piece fuses various partner acrobatic disciplines such as hand to hand, icarian and group acrobatics, as well as erasing borders of traditional lifting and flying gender stereotypes. All music- beatboxing, instrumentals and vocals are recorded and mixed live on stage with a loop station.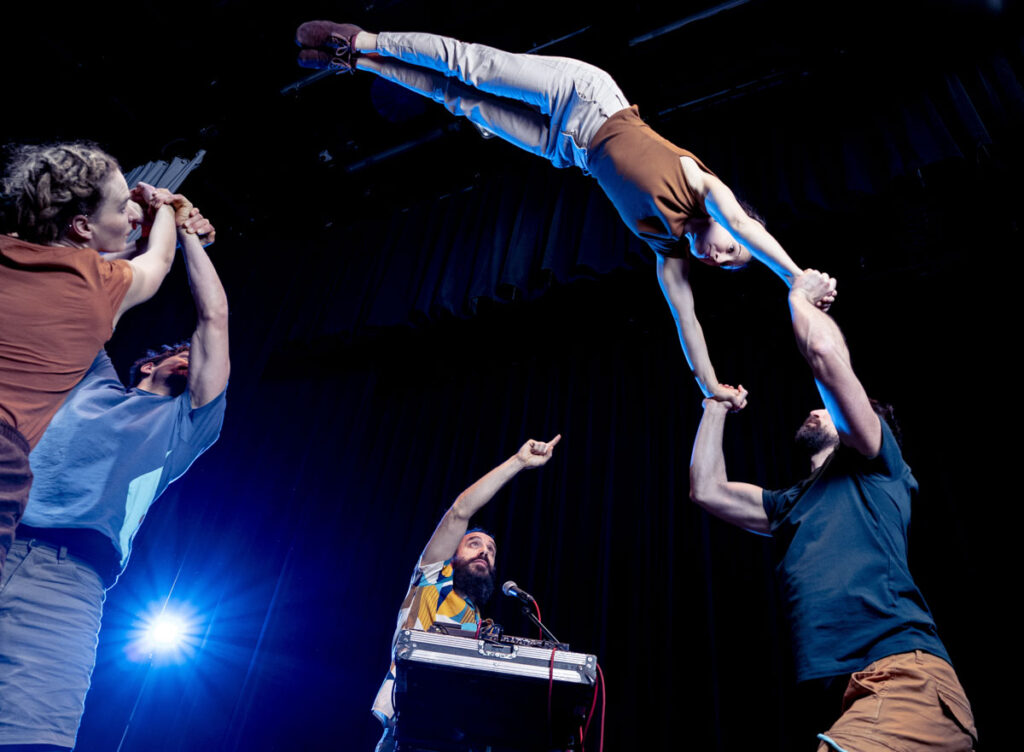 "If you are looking for human contact, you'll find it in the cutting-edge performances of this vivacious young circus troupe. What differentiates ConTakt is their ability to lift the audience with them into genuine states of trust and connectivity. They create a moving, lyrical architecture where extraordinary feats of the body appear as the natural outcome of robust community. This is far more than entertainment— it's a rare and beautiful lesson in how to be more human.
In a short space of time the ensemble moves from slapstick humour to pumping, energetic skits to poignant, dramatic scenes. Always the quest goes beyond physical prowess. The invisible net of support is palpable. Here vulnerability becomes a soaring strength, and seeking and finding contact leaves the audience is a liminal space of astonishment and hope for the future."
– Jennifer Kornberger
Past Shows
26.01 Circustage Kufstein
8.+9.12.22 Winterfest Salzburg
Creators
Costume: Valeria Nesis
Outside Eye/ Choreographers Sabrina Gargano, Rafa Jagat, Pau Portabella
Created collectively with the Artists:
Kerstin Oschabnig, Lily Colleen, Uwe Sattelkow, Yasmine Heyer, Klovis Martin, Jarno Vanthuyne