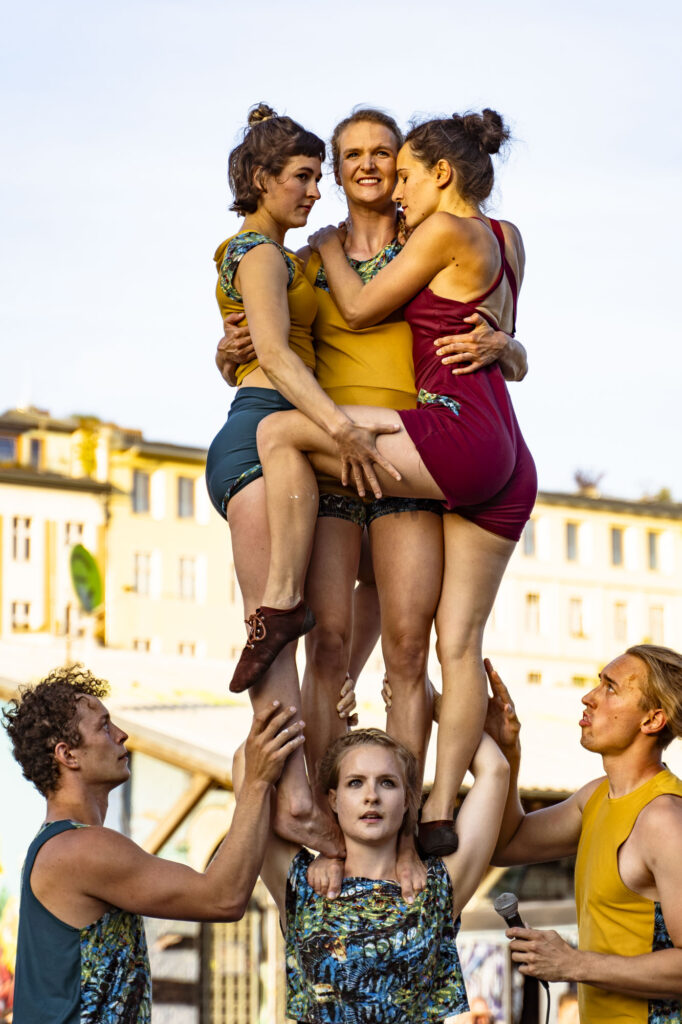 Looks, touches, rhythms. ConTakt is a contemporary circus piece that is guided and accompanied by exquisite live music. Sounds and instruments blend with the movement and interaction of the six performers. The piece fuses various partner acrobatic disciplines such as hand to hand, Icarian and group acrobatics into flowing movements. The acrobatic construction creates physical imagery flowing to the dynamics of the emotional realm.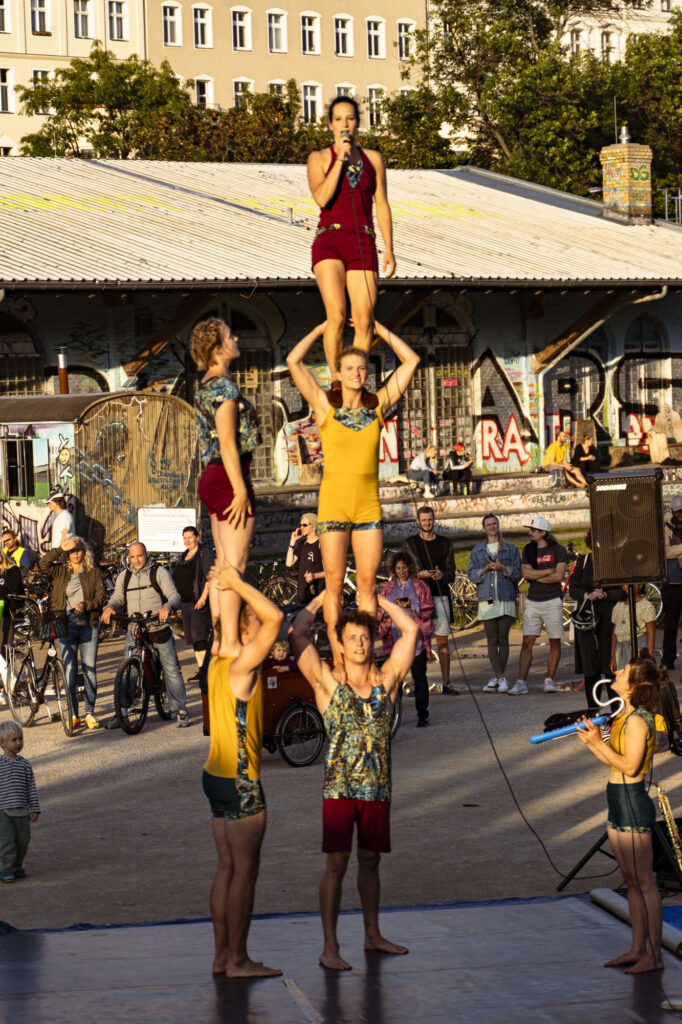 The music is a constant but ever evolving accompaniment. All sounds (vocal beatbox, vocals) and instruments (saxophone, harmonica, clarinet) are recorded live with a loop station and mixed directly to electronic beats. In some moments, the performers are instructed through the music, other times a synergistic and constantly reciprocated collaboration between the musician and performer is the status quo.

In this way different atmospheres are brought together by a common thread of music. Apart from the sound system, the piece is unedited and personal. We go without a backstage, lights or make-up.
Our artistic intention
A real and human show
We strive to present a real and human show to our audiences. We desire to bring as much contact as possible in our new socially distanced reality, using creative techniques to highlight our similarities and take a moment to breathe amidst the stress and loss that defines 2020. We as a company adore the contrast that group acrobatics proposes between strength and power whilst also having threads of fragility and vulnerability woven in.
We want to showcase the magic that musicians and acrobats can create when collaborating to make scenes that effortlessly blend visual and auditory stimulation. We also play on our constellation as a company. Indeed, men can be strong and powerful holding up flyers. They can also be lifted, show fear and apprehensions. Equally, women can be lifted gracefully and effortlessly, but they can also be the ones who lift and create stable foundations. We want to show the whole story – not just the curated and the manicured.
As seven performers who have worked on many external shows, we felt an itch to create something of our very own that contains our signature energy. We strive to present our fresh and light-hearted approach to group acrobatics to the public in a raw and honest way – without the distractions of artificial lights. We want the audience to be captured in the beauty and awe of tall towers and thrilling throws, but simultaneously feel directly connected to us through the quintessential human details that unite us all.
"The powerful, mostly balance-based acrobatics take place in a balanced, aesthetically pleasing flow. It is the necessary attention and precisely timed responsibility for one another that, in addition to the recognition of technical achievement, is what inspires, even touches, above all in its wordless conformity, its fine communication of the glances."

Review by Eveline Koberg from tanz.at (translated into English)